Book of Osie
or
The Life of Bishop Osie England

​by
Clarence Allison Maddy

Published by Sanford Builder, Sanford, FL

We have copies of 1st and 2nd Editions

Osie England in the
1940 Census
Age: 62, Born: abt 1878
​
Birthplace: Ohio
​Gender: Female
​Race: White
​
Home in 1940: Off Intercession Highway, Osc., Fl.
Household Members Age: Head: Osie England 62
Osie, Osee or Hosea means
SALVATION
. Romans 9:25
Osie is of Ghanian origin and means ​"
noble or honorable
".
​​Osie England was born 7 April 1878 in Ross County, Ohio.
(​Her Death Certificate at the bottom of this page)
​The Family Tree further says her parents were
​Adolphus Warner (A.W.) England 1843-1900 and
​Nancy A. Riley 1855-1925
​In the 1880 census, she lived in Huntington, Ross Co. OH
1900, 1910,1920 censuses in Scioto,Ross Co. OH
1930 Point Pleasant, Mason Co., WV
1935,1940, 1945 Osceola Co., FL
She died 28 October 1957 in Point Pleasant, Mason County, WV, and is buried at Lone Oak Cemetery.
Osie's siblings​
Nancy A Riley1855 – 1925
Annette J. England1875 – 1952
Dora England1879 – 1949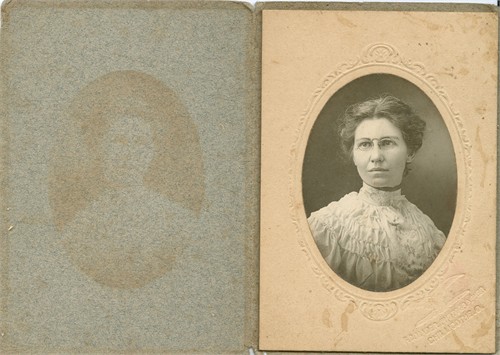 Osie England is interred at Lone Oak Cemetery, Point Pleasant, Mason County, WV
Find A Grave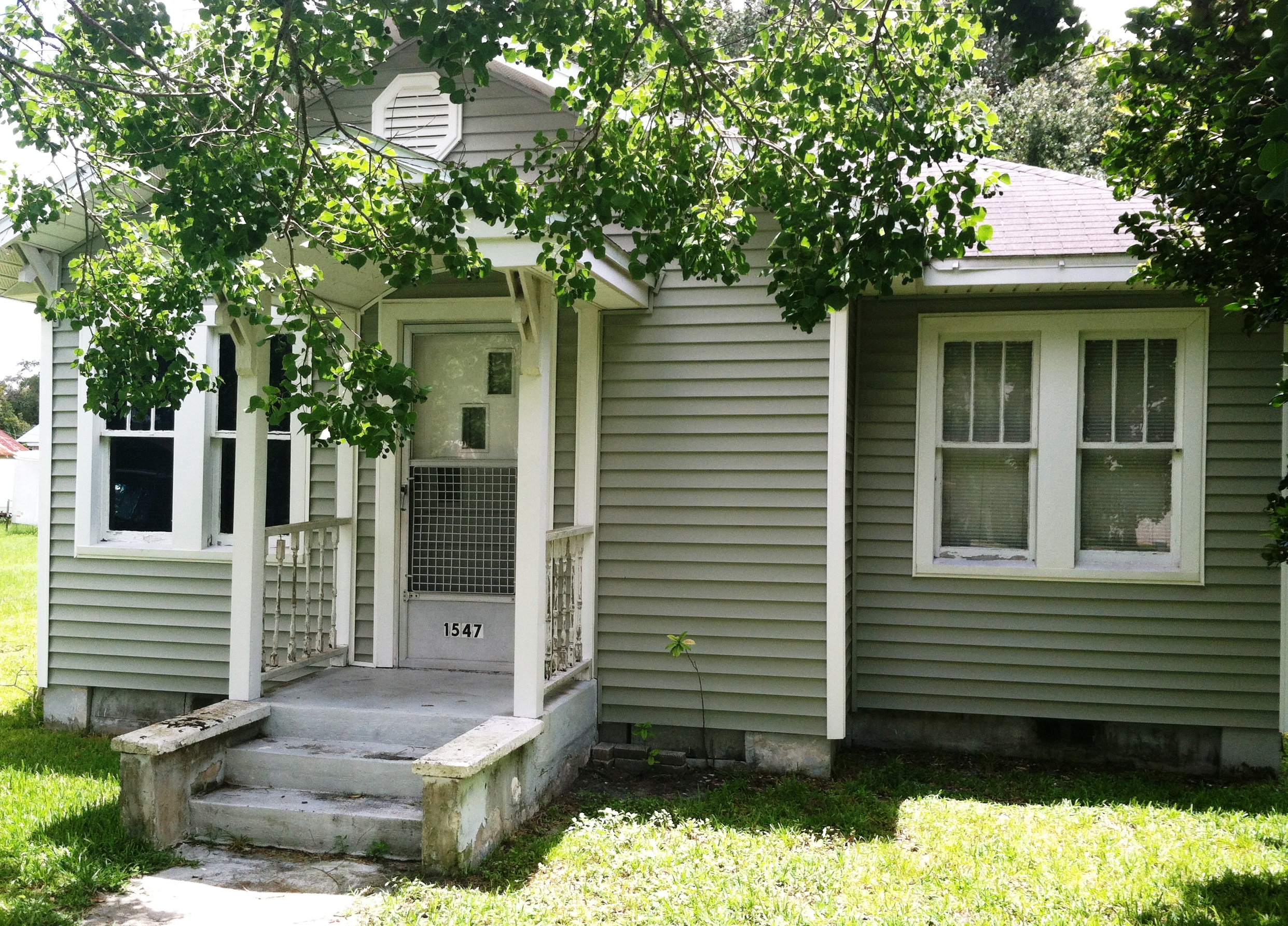 (Left) Bishop Osie England standing in front of her little cottage at
1547 Tallahassee Blvd., Intercession City, FL.
(It is located across the street from the present day Wesleyan Methodist Church​)
Above photo of Osie's cottage taken by
TJ Lemaire-Lavigne, 7/6/2014.
​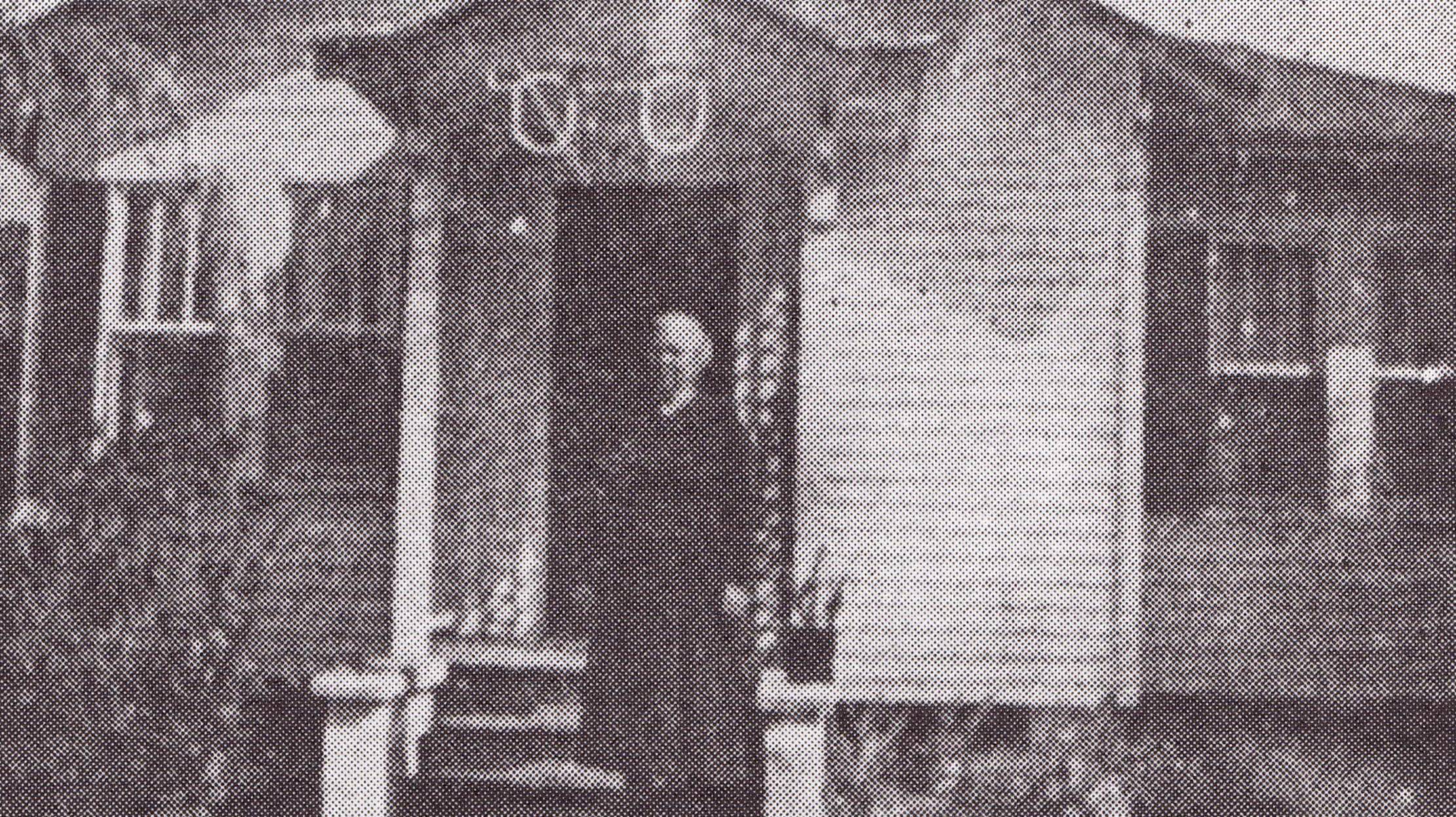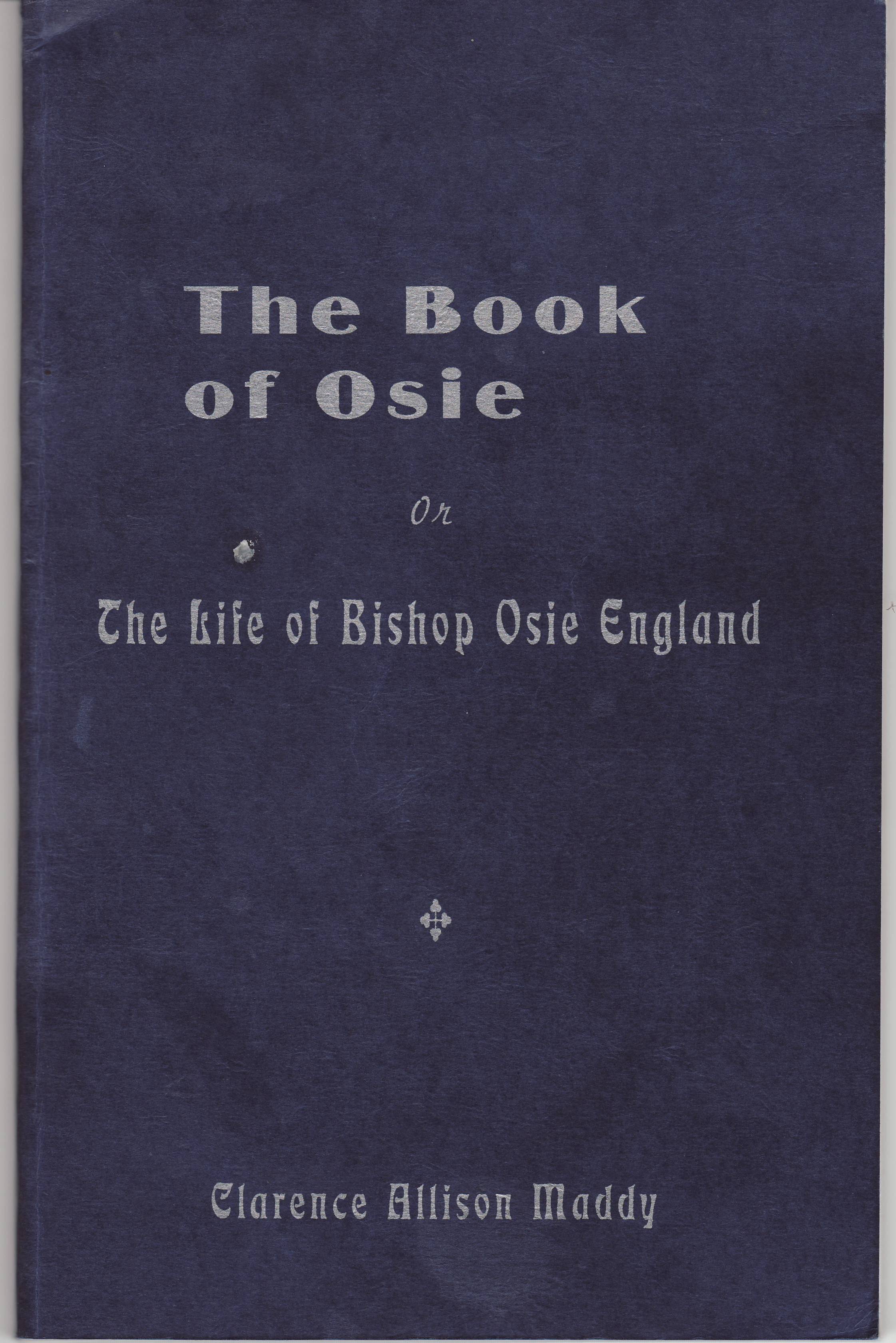 Miss Ossie England
​(1877-1957)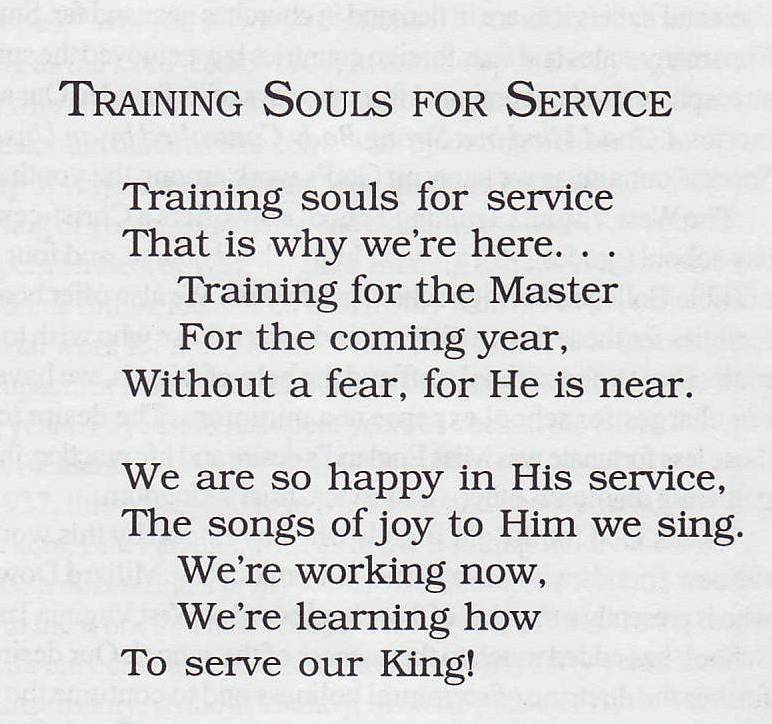 Click Logo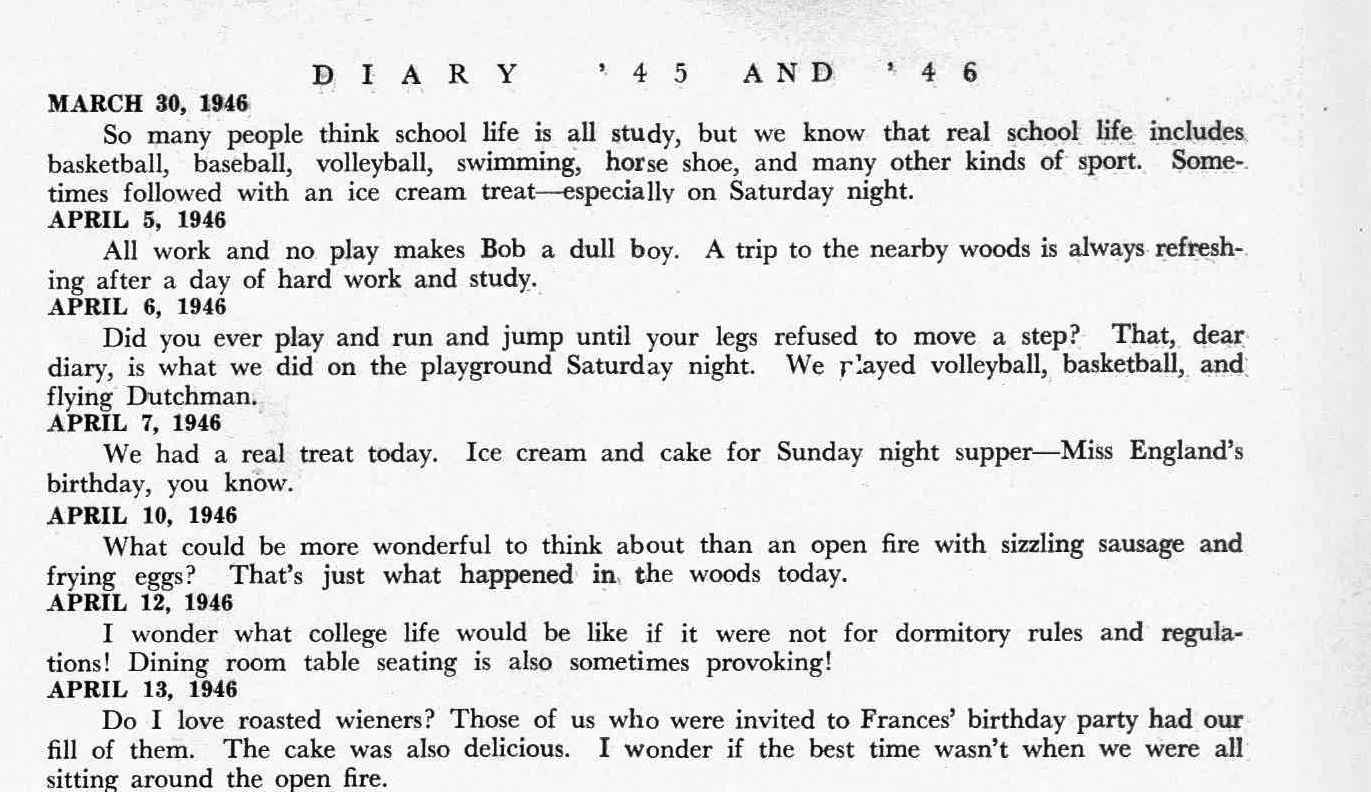 Why we have started the first annual "Osie England Day."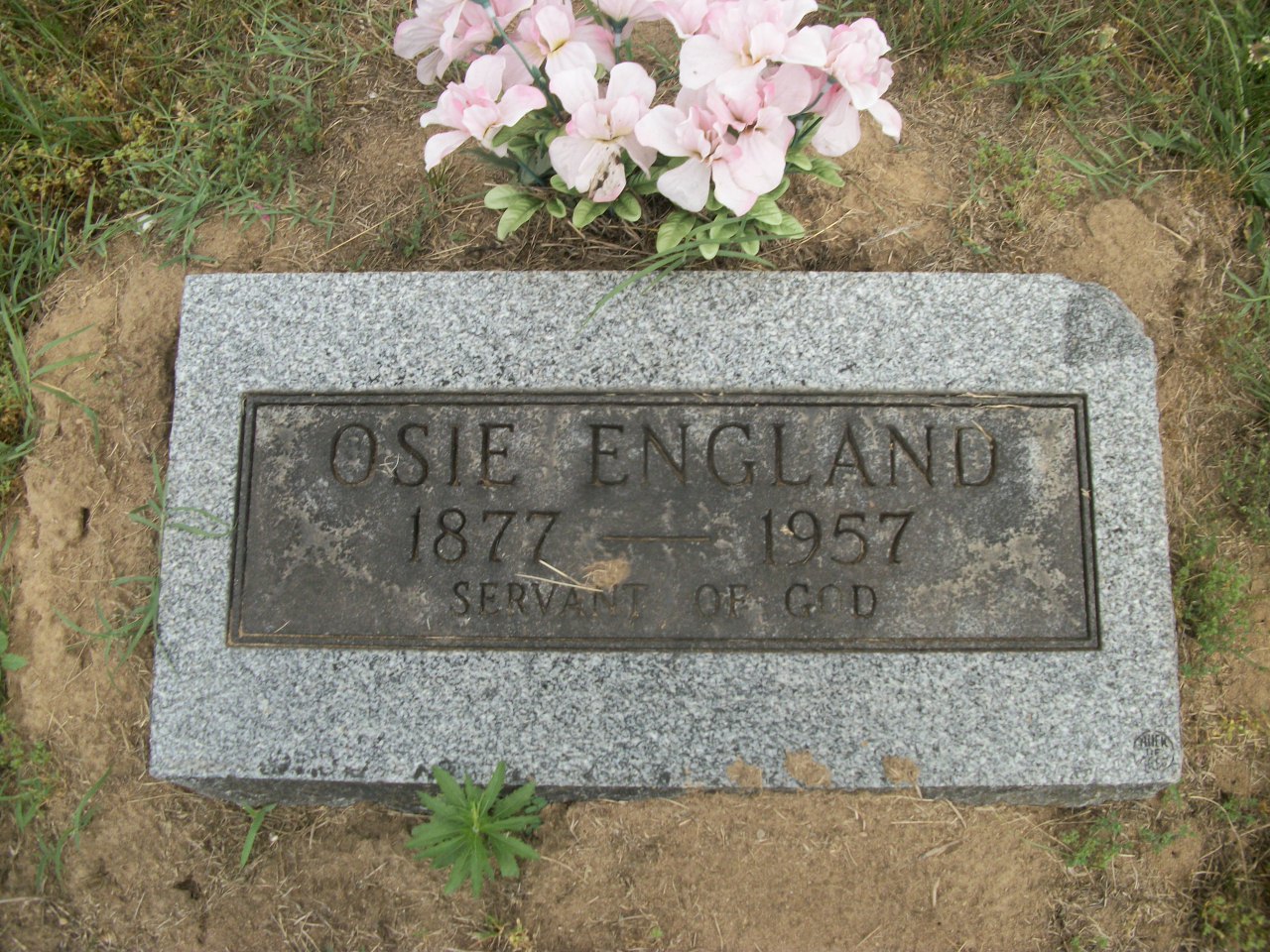 Osie England, SERVANT OF GOD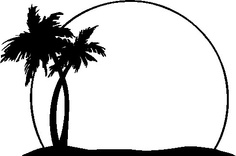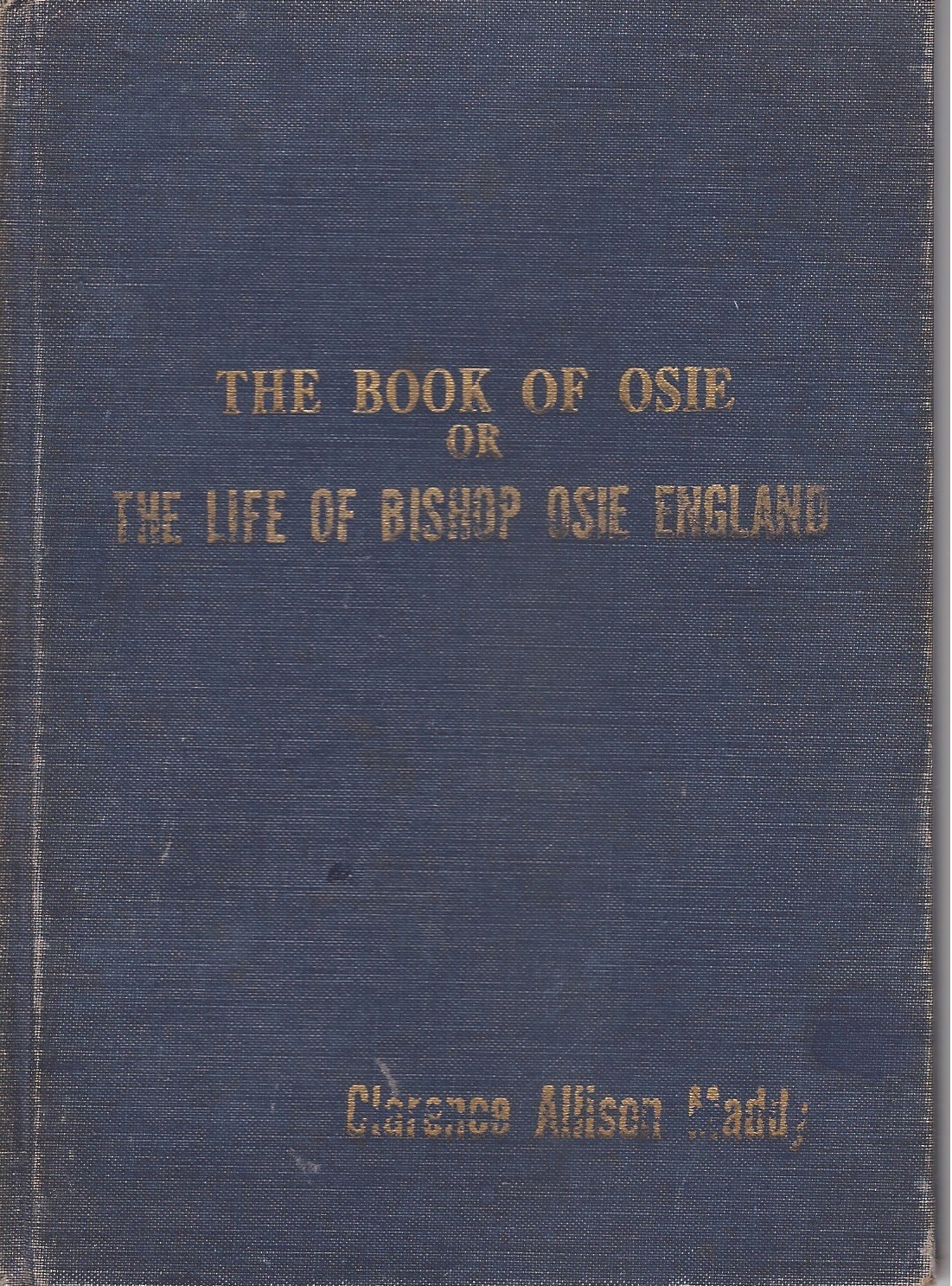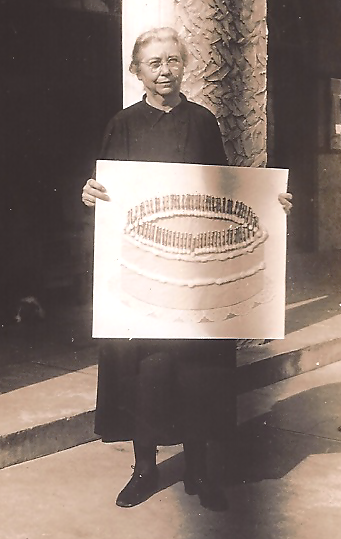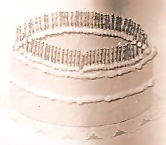 Miss England holding a poster of her Birthday Cake.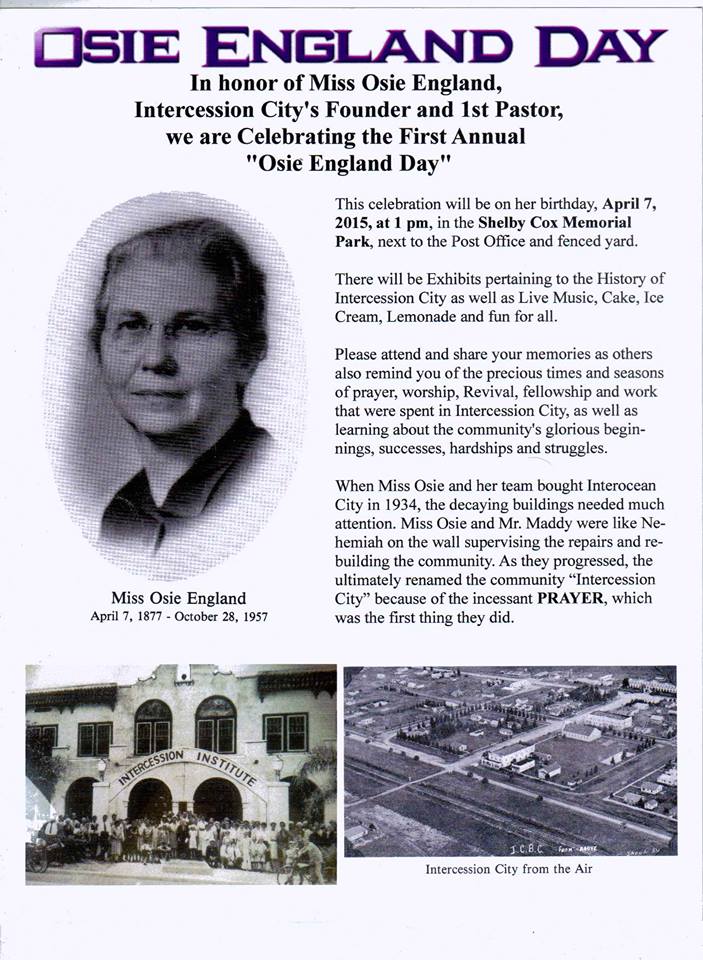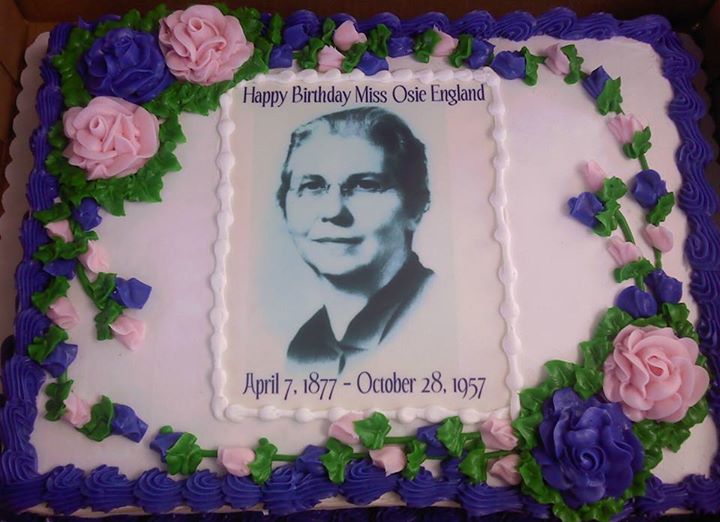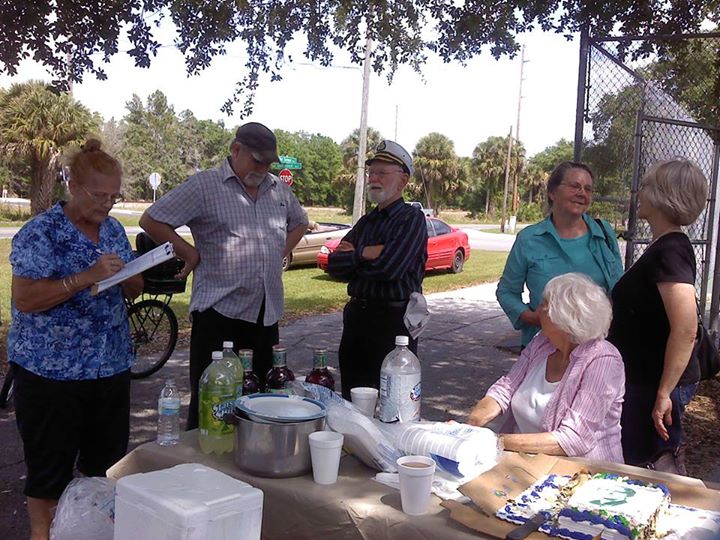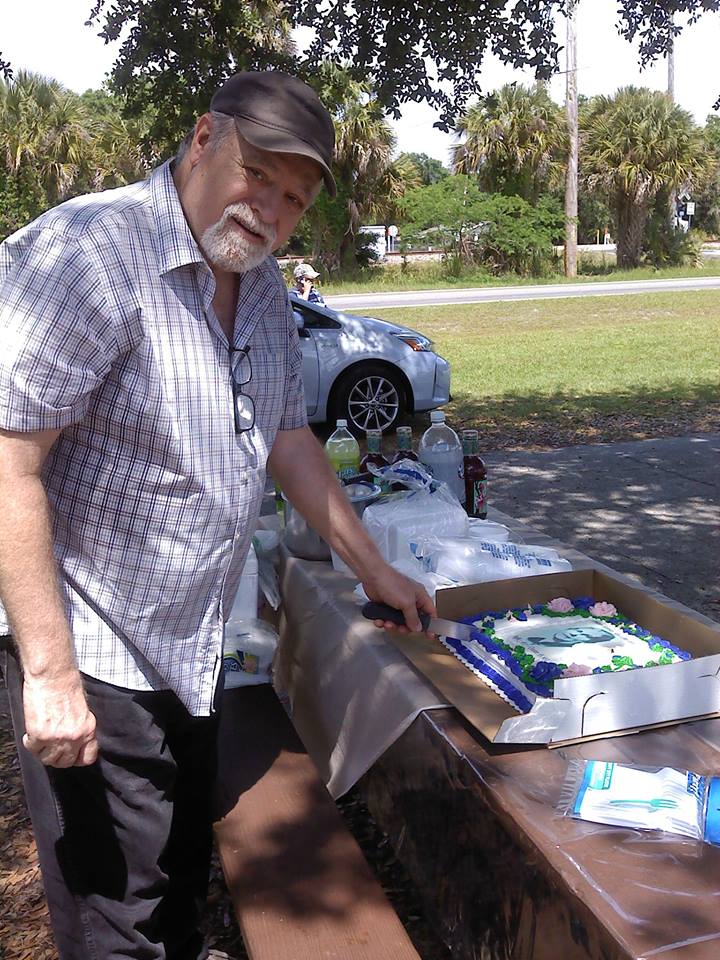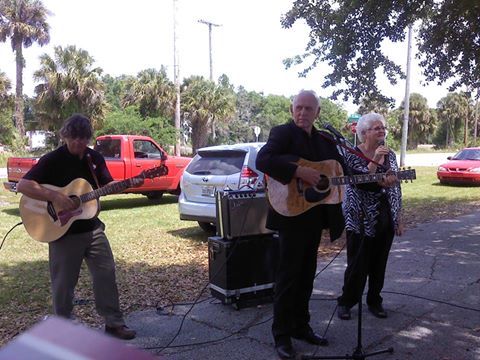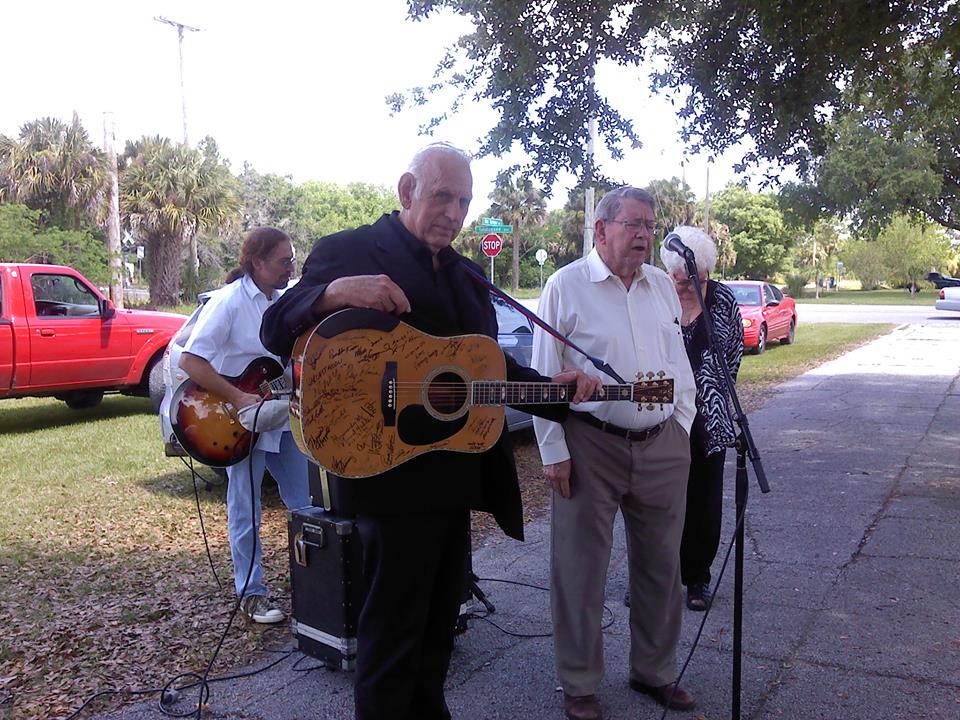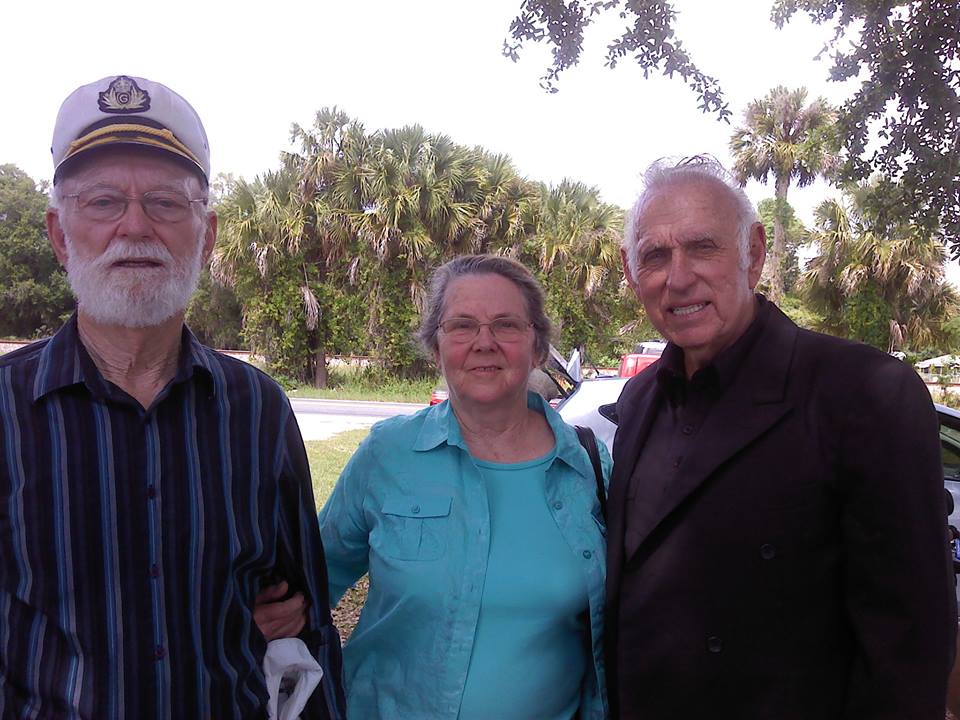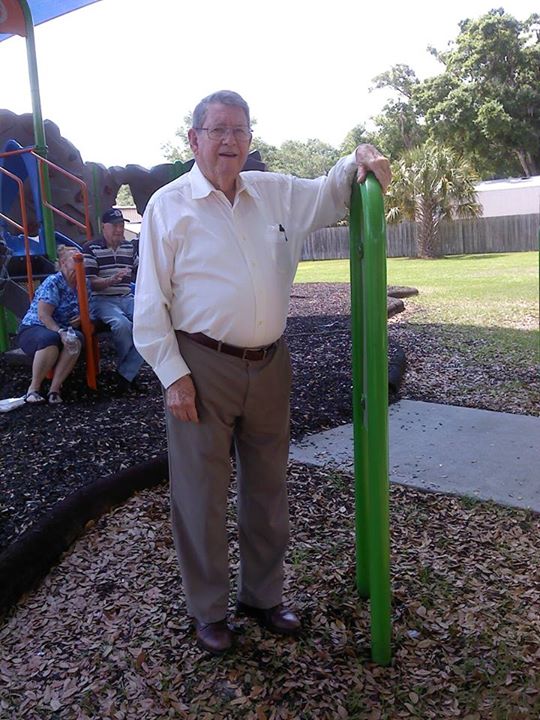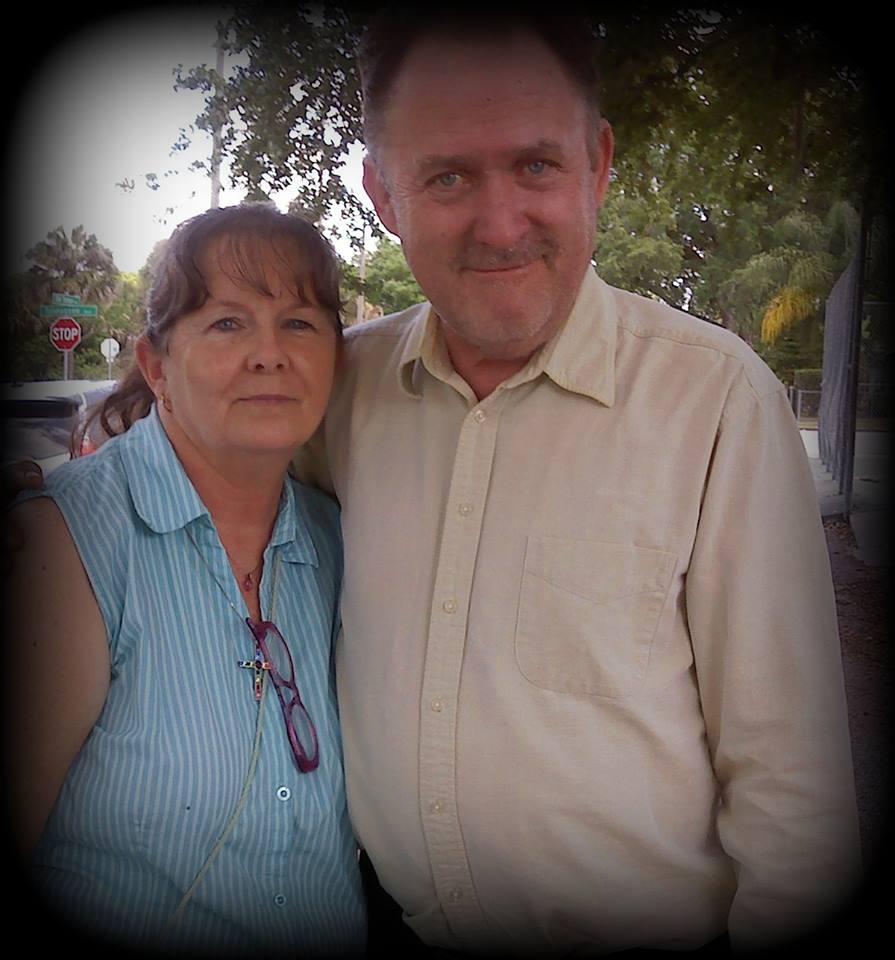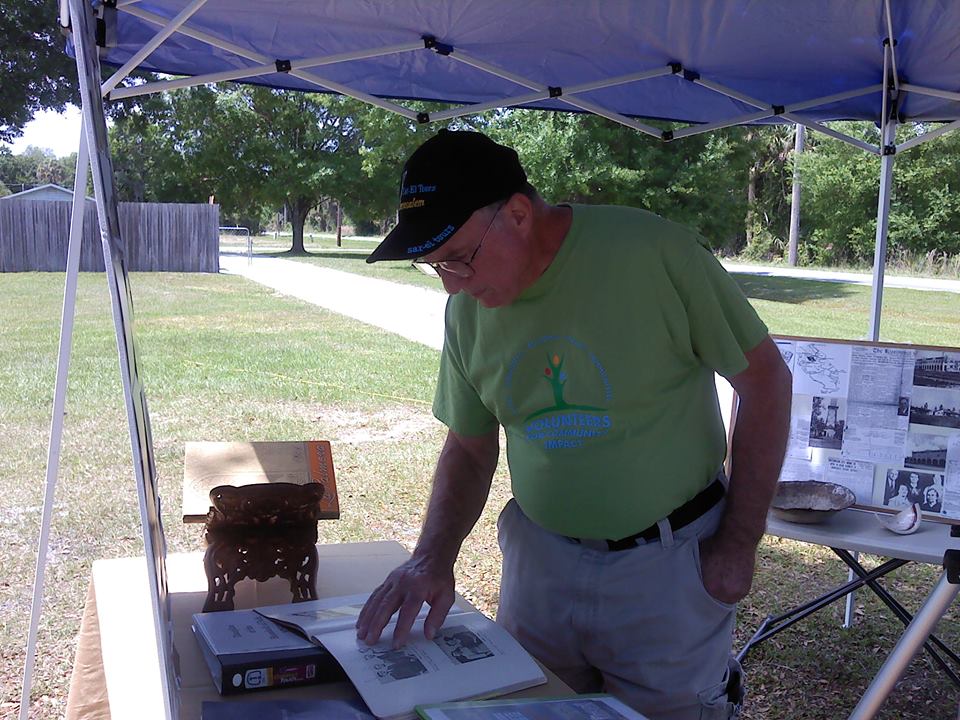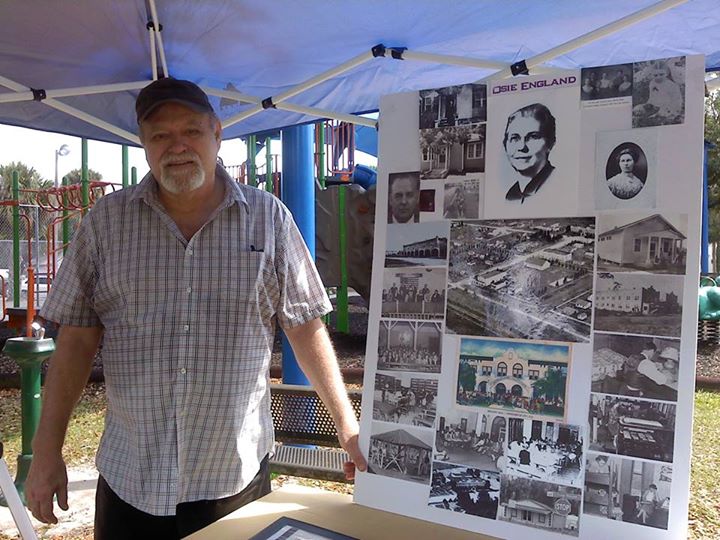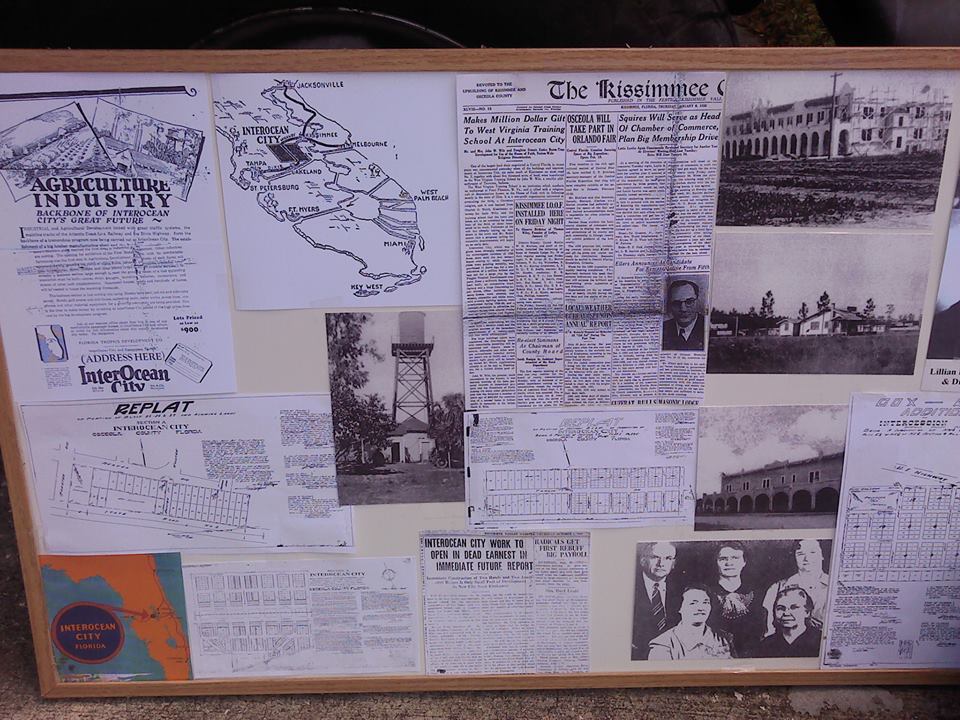 Photos below by Diane Scott. Good job Diane. Thank you.
Can you name everyone here?

Bishop Osie England came to Interocean City and started rebuilding the colony, renaming it Intercession City, as well as commencing the establishing of the schools--ICBC, ICHS & ICGS. Miss Osie was only 58 years old when she arrived here in 1935.

Miss Osie's Conversion.
Miss Osie accepted a school at Locust Point, Ohio, in order to provide support for her widowed mother and to meet debts which had been incurred by her family.
In the middle of the term, a strange thing happened.
A lady with her husband and three small children moved into a tenant house and placed her two little girls in the school. One eventful evening, Miss Ossie, when on her way home from school, was met by the mother who asked permission for a certain minister to come to the schoolhouse and conduct a two-weeks meeting. Her face glowed with a heavenly light as she told of how she had been led to the Lord through the preaching of this man.
Miss Osie tried to refer the woman to the school board but the mother replied, "I have been to the school board and they said it was just whatever you said. Miss Osie said it would be alright.
The preacher was not at all what Miss Osie expected but was sent by God for that community. The terms he used, such as, "conviction," "salvation," "restitution," "conversion," and "being saved," were all new words in the vocabulary of his congregation.
The next night people began to come from every direction and some of the best people of the community began stepping out to the altar where they prayed earnestly and received a great blessing for their repentance and contrition. Soon Miss Osie's students began walking past her on their way to seek the Lord. She also went forward but without conviction.
The meeting closed but the people who had become spiritually aroused by the meeting opened their homes for prayer service. On the night that special service was to be conducted from the England home, our teacher was feeling the need of a Saviour as never before. When she saw the people who lived all around them singing, shouting and praising the Lord in their newfound joy, she slipped into an adjoining bedroom and there had it out to the finish with the Lord. She vowed she would never leave the place where she was kneeling until the Lord satisfied her soul. As she was seeking earnestly, the Lord came suddenly into her heart and she never had reason to doubt her wonderful conversion. Chronicle, ICCS, 1986, p 26

1877, April 7
Mr. and Mrs A. W. England of Ross County, Ohio, had a baby girl, Osie, born in their log cabin in the hills. Miss Osie, the child

1890
At age 13, she was studying hard and was ready for high school. Her parents were unable to send her to the Chillicothe school, so she took the 8th
grade work the 2nd time. Her teachers taught some high school subjects to her, subscribed to "The Youth's Companion," carried library books back and
forth four miles, rented an organ for the school and gave lessons to those who wanted music.

1893
The day before she was 16 years old, Miss Osie drew her first pay check for teaching. She enrolled some boys and girls who were older than she was, but she wisely kept quiet about age, lest her youth have a bad effect upon the discipline of her school. She said she received her education piecemeal fashion. During the 9 month school terms, she studied under a private instructor. She regularly attended the summer sessions at Ohio University.

1900
Her father, A.W. England suddenly developed pneumonia and was taken from them almost instantly. This bereavement shocked all the loved ones and especially Miss Osie. She had a nervous breakdown, accompanied by a heart ailment, traces of tuberculosis and an anemic condition and she went down to a shadow of her former self.
In spite of her physical condition, she accepted a school at Locust Point, Ohio. This is where she became a Believer. (see story above).

The Call.
She became President of the Ohio State Teacher's Association and was getting offers of advancement from many parts of the state. She now had to make a great lasting choice and she chose to take the humble was of the cross. Of all the hundreds of friends she lost in the educational field, she gained thousands for the Lord in a spiritual vineyard. If she had failed to fulfill her call, numbers would likely never have found the Lord.
Some time later the Lord called her out of that schoolroom, telling her that He no longer wanted her salary, which she had been very liberal with in helping the poor and needy but he wanted her. This led her to a needy world and soon she and her co-laborers founded the West Virginia Training School in Point Pleasant, West Virginia.

1923-24 (Miss Osie was 46 years old)
Point Pleasant, West Virginia. The first session of the West Virginia Training School was in 1923-24, a three-months term with an enrollment of 40 boys and girls who accepted training for missionary work at home and abroad. No charge was made for board, lodging or books.
Each succeeding year they had from 3 to 4 months of school. The course provided the study of the Bible, general history, Latin, English, algebra and practical nursing. In small groups the students were trained by some experienced leader to visit and minister to the sick and needy, hold street meetings and jail services. The Lord blessed and gave preachers, home and foreign missionaries from this humble group.

1923
Interocean City, Florida. J. W. White, millionaire promoter from the north, in 1923 brought 5,000 acres of Osceola Emptiness from J. W. Wile and decided to build a city -- Interocean City, almost exactly between the Gulf of Mexico and the Atlantic Ocean. This was two years after the boom began and "White was one of the first to chase the pot of gold at the end of the Florida rainbow," according to Jim Halbe, writing in Florida magazine dated June 1, 1958.
An army of workmen converged on White's vast prairie and by the onset of the 1924-25 winter season, the Interocean City Hotel was finished at a cost of $300,000...He went on to build and sell $200,000 worth of homes, with sidewalks and streets...Then in 1925 it happened. The workers arrived at Interocean City for their paychecks, only to find that the bossmen weren't around. Mr. White had missed his pot of gold...So for a decade the huge hotel stood vacant like a medieval castle on an empty plain. Cattle chewed grass on the huge porch of the once-great hotel.

1934, November 24
During the autumn of 1934, while depression was at its worst, a group of people departed from Point Pleasant,WV for Florida. Miss Osie England, the leader of the group, accompanied by one of her former students, Mr. Clarence Maddy and others. Some years prior, an orphanage named Mountain State Orphanage and a religious denomination called the Household of Faith had been established at Heights, WV, a town adjoining Point Pleasant. Later the orphanage was renamed the West Virginia Training School.
Mr. Maddy decided that due to the cold winters and the expense of heat, that they should go south and locate a winter home. Workers and orphans were loaded into 2 trucks and several cars. The girls were in one truck driven by Marshall Allison and the boys were in the other truck driven by Harvey Ours. The trucks contained straw mats, cots, mattresses, camping supplies and people.

1934
The group arrived and set up camp at a Tourist Court in Apopka, Florida. The women and girls lived in a cottage, the men and boys lived in tents. Cooking was done outside. From this location, Mr. Maddy began his search for a suitable place to settle. The situation turned for the worst when Miss Osie announced that they were down to 70 cents and an all day, all night of Intercessory Prayer and fasting was initiated.
Desperate people in a desperate situation prayed all night in desperation and the Lord answered with "A VISION," of where to go. MR. MADDY HAD THAT VISION of a large place with spacious buildings on it.
Seven miles south of Kissimmee, Florida, on Old Tampa Highway and 17/92, he located a former "boom town" that was then known as "Florida's #1 Ghost Town." That place was Interocean City, that had fallen prey to the stock market crash of 1929. It consisted of several buildings including an unfinished Hotel, an apartment building, an administration building, about 6 reseidences, and other unfinished buildings.
Mr. Maddy located the owner, a Mr. Wile of Kissimmee, Florida and was able to "swing a deal," to obtain the property which contained 5,000 acres of land.

1935, Spring
The plan was to establish an orphanage and they applied for a license to the State of Florida. The state inspectors found the buildings unsatisfactory for an orphanage and the denied the license. So in the spring of 1935, everyone returned to Point Pleasant, leaving 5 adults and 7 youth to maintain the property.

Miss Rudd and Miss Cox remained in Intercession City. With practically no help from Pt. Pleasant, they were forced to "fend for themselves." They went to the canal at Campbell Station and caught fish. In the fields they picked huckleberries, with which they made pies. The road through Interocean City was very rough and often food stuff fell from the trucks passing through. One time, several crates of grapefruit fere found and on another occasion several hampers of green beans. The cooks longed for cheese but there was no money. Their prayers were answered when a wheel of cheese fell off a passing truck just infront of the administration building. Miss Rudd tried to chase down the truck but to no avail. Macaroni and cheese made a big hit with everyone.
On each Saturday night, Miss Rudd took out a group for street meetings. They played instruments, sang and Miss Rudd preached. The Lord put it upon the heart of a Mr. Thomas in St. Cloud to furnish meat. He never failed to provide meat for Sunday dinner. They acquired bantam hens from which eggs were collected to make banana pudding for Sunday dessert.

A Post Office was established with Miss Cox as Postmaster and Miss Rudd as Mail Carrier. The mail was picked up each day at Kissimmee. All monies from these jobs were put into the general fund.

1939
A monthly paper named "The Defender of the Faith" was published by Mr. Maddy. A contest was offered to give an appropriate name to
Interocean City, the prize being a house lot worth about $200.00. The winner suggested "Intercession City" and the name was officially changed from
Interocean City to Intercession City.
Mr. Maddy and several ladies called "Field Workers" called on businesses throughout the state soliciting money for the school. A subscription to the
Defender was given for $1.00 per year, when postage to send each issue was 3 cents.

1939, Fall
Dr. A. J. Smith and family arrived to start a Bible College. It was called Intercession City Biblical College, ICBC and officially started in October
1939. The first year the tuition, room and board was $59 plus 2 hours work per day. Transportation was provided from Point Pleasant, WV to Intercession
City. The school grew and prospered. A saw mill was provided, as well as a bakery and printing press.

1940, January
The 100-day Camp Meetings were held each winter, starting at the beginning of January, with well known evangelists preaching. Many gifted preachers and singers came from all parts of the country. Many people came to know the Lord Jesus Christ as their personal Saviour. Intercession City was growing with restaurants, trailer park, general store, service stations, etc.

1939-1945
World War II took many of the young men into service and shortages and rationing made things difficult at ICBC.

1945, April 30.
Hitler kills himself by gunshot.

1946 - 1948
ICBC survived and continued thru the Spring Semester of 1946. It was then renamed "Intercession Institute." from Fall 1946 thru Spring 1948.

1947 The Naval Air Station in Sanford, FL had been leased and re-construction was under way and the move began from Intercession City to Fellowship Front. Some teachers, students, staff and resident's made the move with Miss Osie to the new Fellowship Front.

1948
Last issue of La Palmera published at ICBC, Intercession City Biblical College.

1948
After the school year ended,, it was the beginning of the exodus to Sanford, FL to the Sanford Naval/Air Station.​ Miss Osie's photo of her preaching in the pulpit of the church. You can see the stained glass window to the side of her as she preaches.​

​​​1950-1952
AJ Smith returned to Intercession City as president of the renamed Southern Wesleyan Biblical College that was purchased from Miss Osie's ministry. He then left to return as Dean of People's Bible School of Greensboro, NC.​​​

The above Timeline information is taken from several sources including, La Palmera yearbooks (1943, 45 & 46, 48), Chronicle ICCS (1986), The Book of Osie (1923?), A Chronicle Record of the Record of the History of Intercession City by David A. Chapman Ministries, A letter by Ardon W. Smith (son of A.J. Smith) dated 1997, and Remembrances of Rev. James Kreider, 3/11/2015.

Honoring Miss Osie Englamd