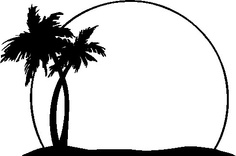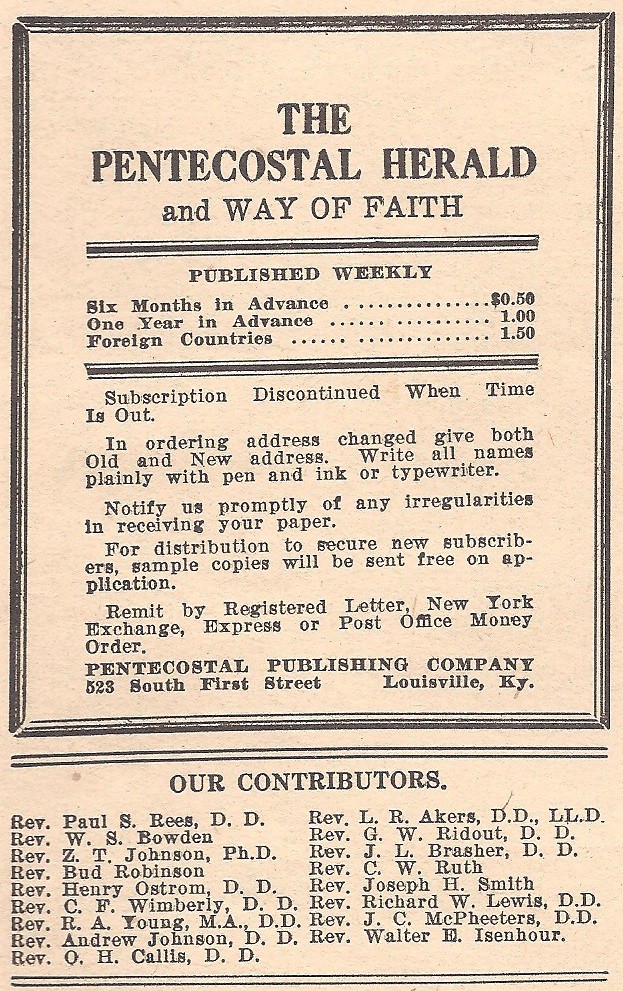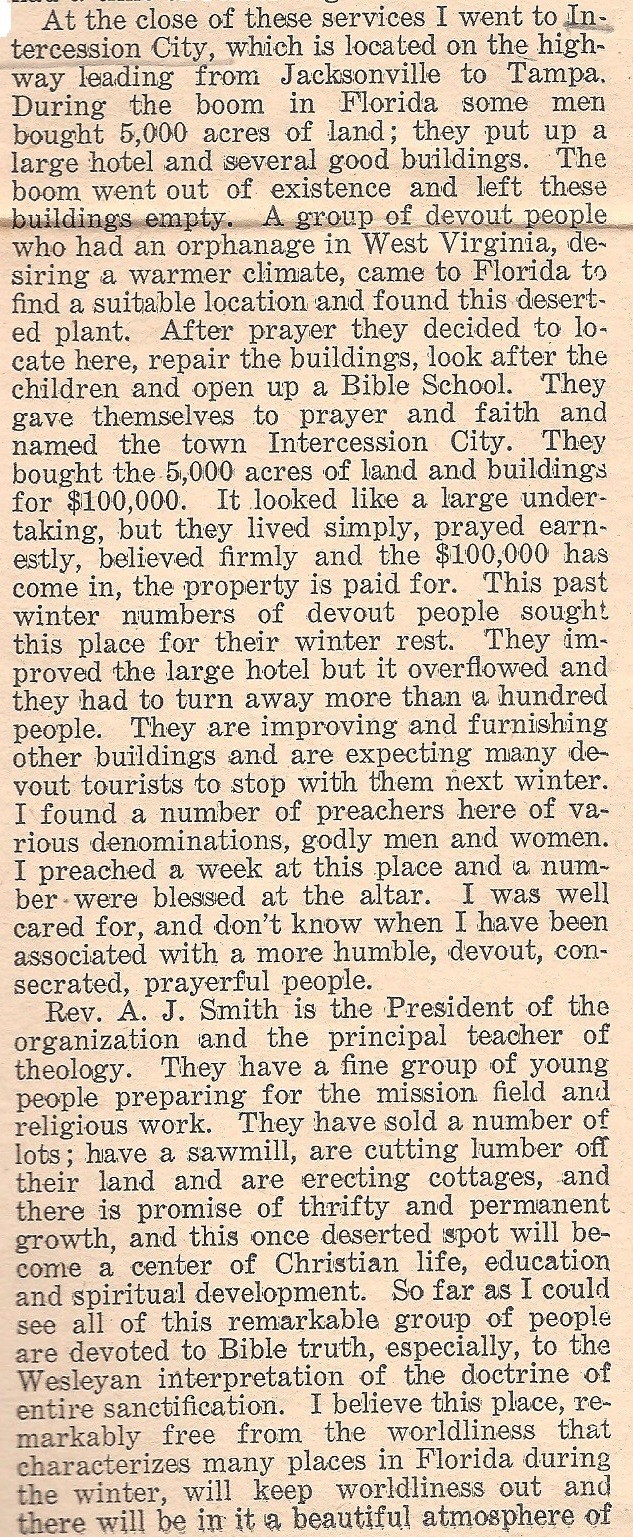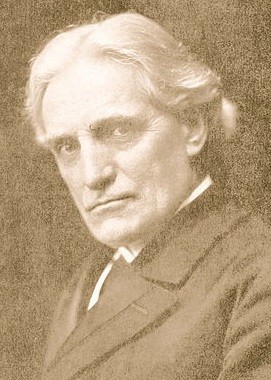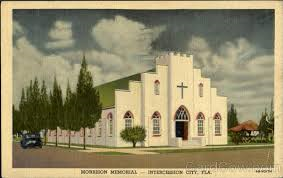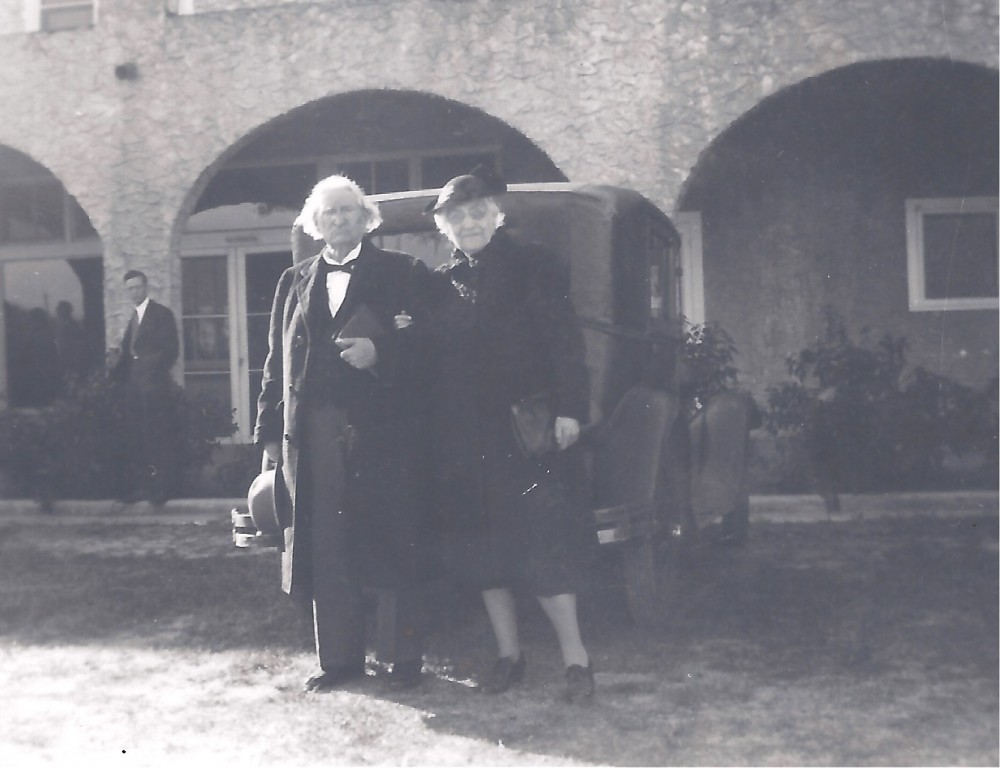 The Morrison's in front of the Chapel of the Admin. Bldg.

H.C. Morrison
(1857-1942)

Dr. H. C. Morrison
(1857-1942)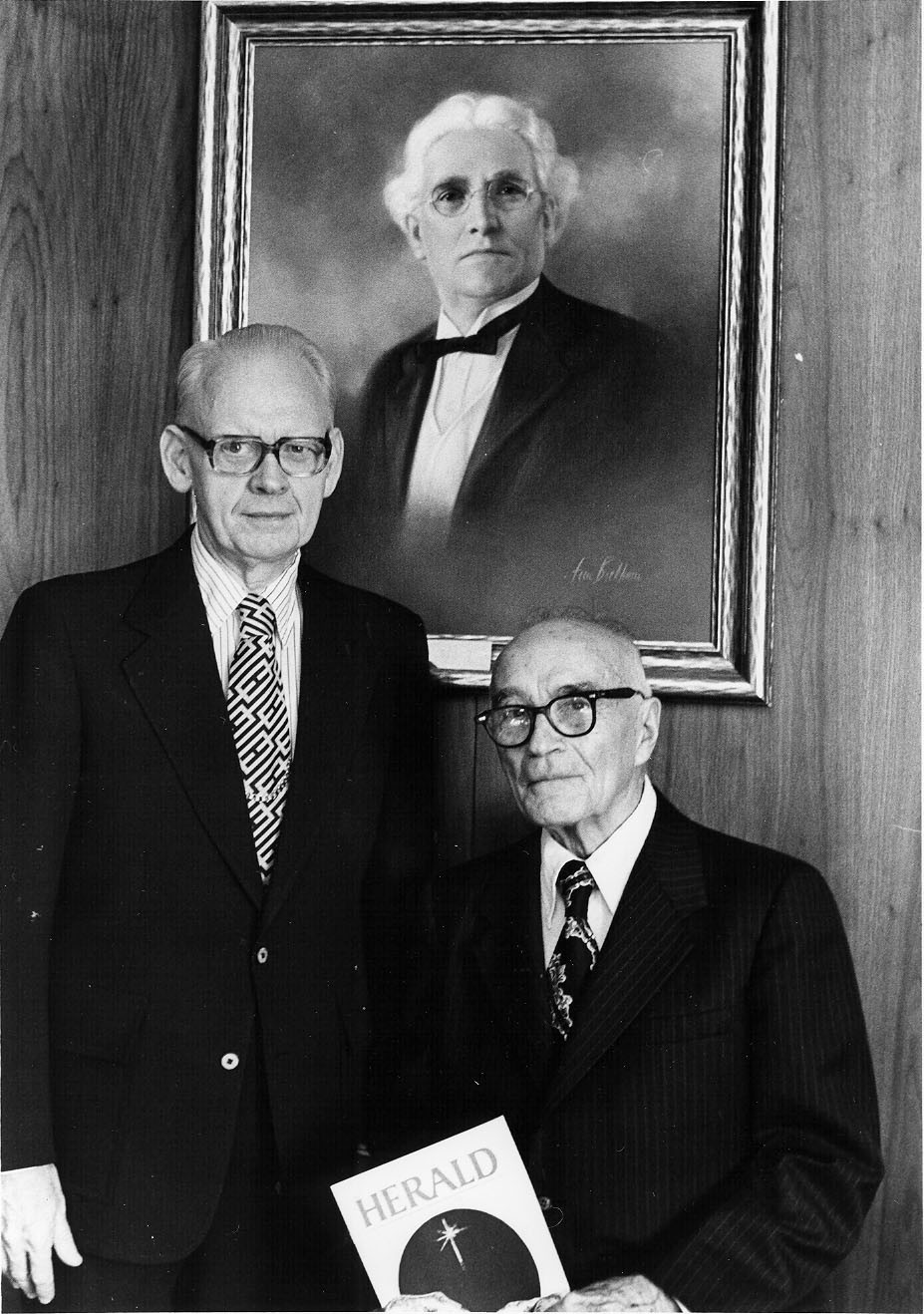 Dr. Morrison and his wife visited Intercession City quite often and even preached in the 100 Day Revival Meetings.

In 1890, H.C. Morrison, a Methodist minister at Asbury College in Wilmore, KY, started,

HOLINESS, "SCHOOL OF THE PROPHETS

."

H. C. Morrison also taught "the second blessing" of being

BAPTIZED IN THE HOLY GHOST

, that brings intimacy with God.

From "The Human Sacrifice" by Irslynn Russell

Left Photo is the May 18, 1942 edition of the Pentecostal Herald

Phoro left is with President Stanger and President Emeritus McPheeters in front of portrait of H.C. Morrison, December 1976.
Read the article right in The Pentecost Herald, April 30, 1941 of what H.C. Morrison wrote about Intercession City.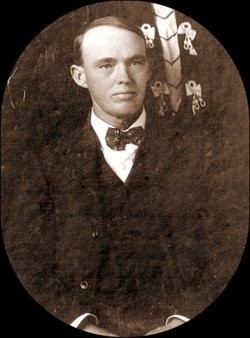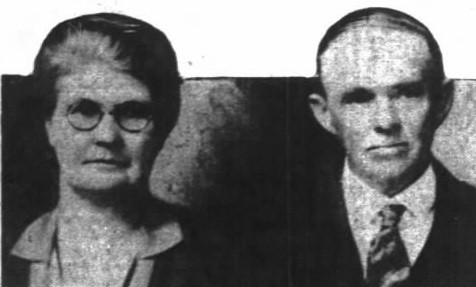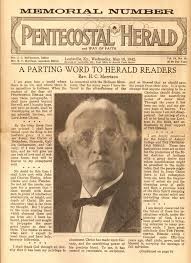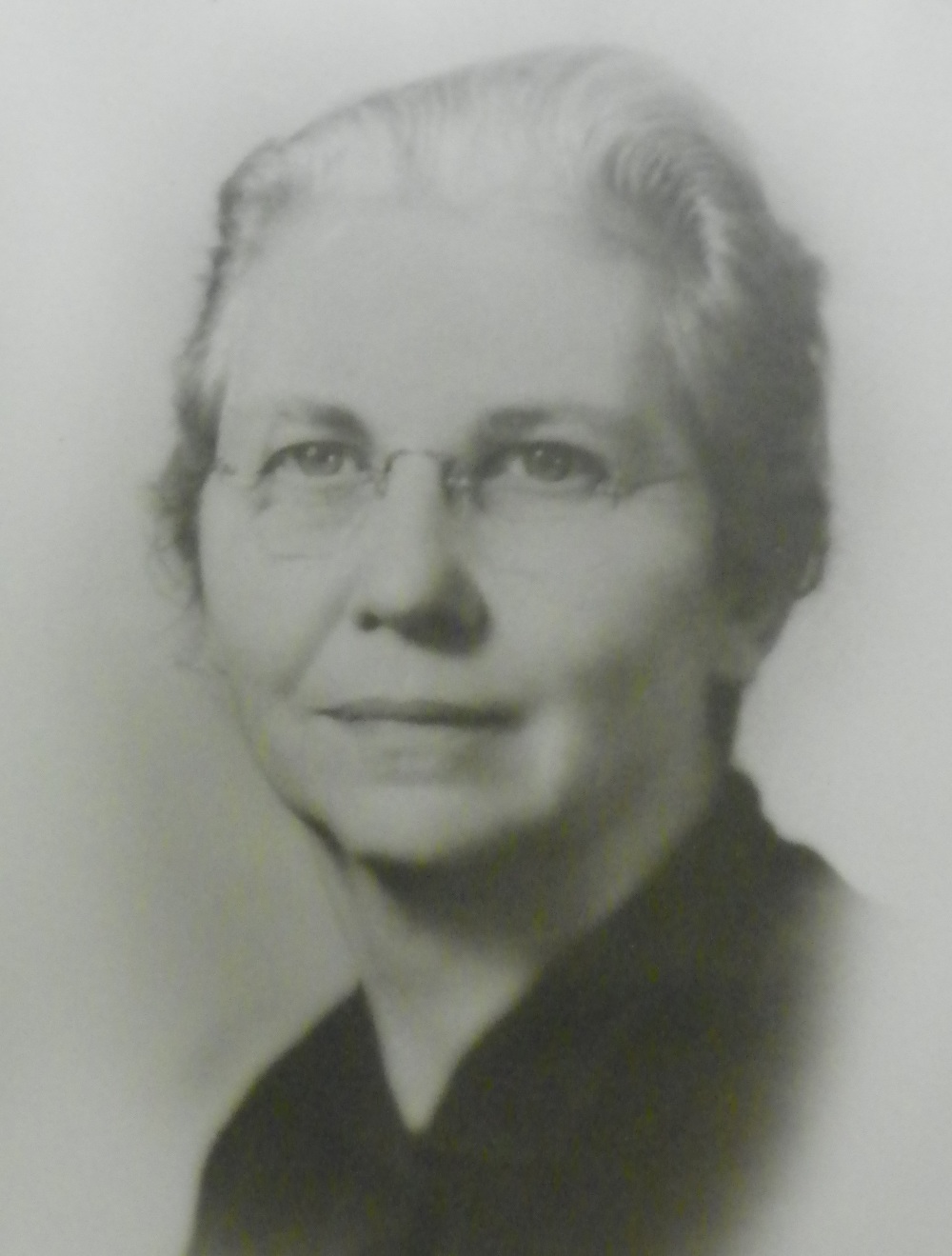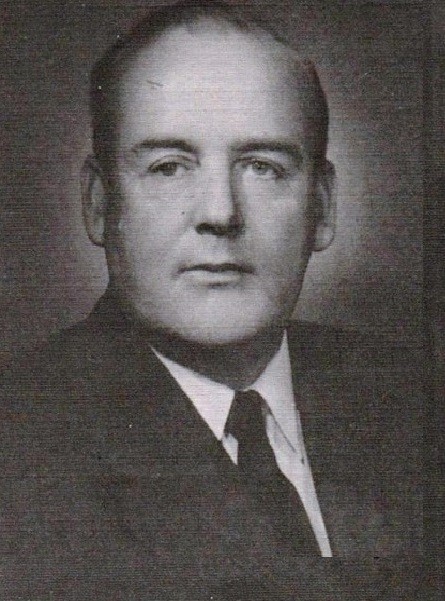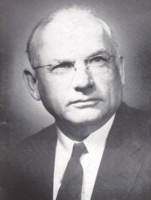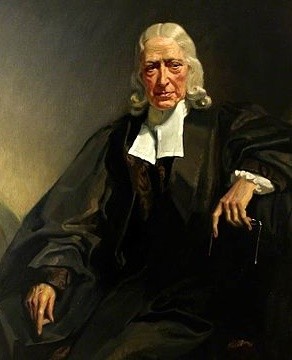 J. W. Wile
(1866-1951)

Bishop Osie Enland
(1877-1957)

Dr. A. J. Smith
(1877-1960)


Rev. C. A. Maddy
(1898-1953)

John Wesley
(1703-1791)

1 Timothy 5:17 Let the elders that rule well be counted worthy of

double honour

, especially they who labour in the word and doctrine.









Kristallnacht (German pronunciation: [kʁɪsˈtalnaχt]; English: "Crystal Night") or Reichskristallnacht [ˌʁaɪçs.kʁɪsˈtalnaχt], also referred to as the Night of Broken Glass, Reichspogromnacht [ˌʁaɪçs.poˈɡʁoːmnaχt] or simply Pogromnacht [poˈɡʁoːmnaχt] ( listen), and Novemberpogrome [noˈvɛmbɐpoɡʁoːmə] ( listen), was a pogrom against Jews throughout Nazi Germany and Austria on

9–10 November 1938,

carried out by SA paramilitary forces and German civilians. German authorities looked on without intervening. The name Kristallnacht comes from the shards of broken glass that littered the streets after Jewish-owned stores, buildings, and synagogues had their windows smashed.

Estimates of the number of fatalities caused by the pogrom have varied. Early reporting estimated that 91 Jewish people were murdered during the attacks. Modern analysis of German scholarly sources by historians such as Richard J. Evans puts the number much higher. When deaths from post-arrest maltreatment and subsequent suicides are included, the death toll climbs into the hundreds.



Additionally, 30,000 were arrested and incarcerated in Nazi concentration camps. Jewish homes, hospitals, and schools were ransacked, as the attackers demolished buildings with sledgehammers. Over 1,000 synagogues were burned (95 in Vienna alone) and over 7,000 Jewish businesses destroyed or damaged. Martin Gilbert writes that no event in the history of German Jews between 1933 and 1945 was so widely reported as it was happening, and the accounts from the foreign journalists working in Germany sent shock waves around the world

. The Times wrote at the time: "No foreign propagandist bent upon blackening Germany before the world could outdo the tale of burnings and beatings, of blackguardly assaults on defenseless and innocent people, which disgraced that country yesterday."

https://en.wikipedia.org/wiki/Kristallnacht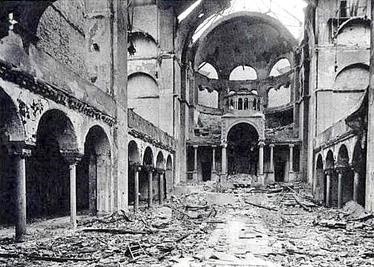 The interior of the Fasanenstrasse Synagogue in Berlin after Kristallnacht
Location Nazi Germany in its borders of 1938 (Today's Germany, Austria and parts of Poland and Russia)
Date 9–10 November 1938
Target Jewish population of Germany and Austria
Attack type
Pogrom, looting, arson, mass murder, state terrorism
Deaths 91+
Perpetrators Sturmabteilung (SA) stormtroopers, German & Austrian civilians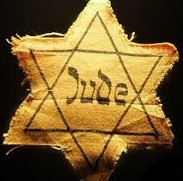 Judensau on the Wittenberg Church, built 1300–1470. The imagery of Jews in contact with pigs or representing the devil was common in Germany.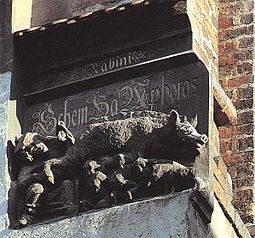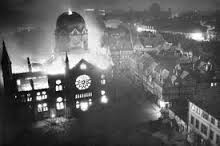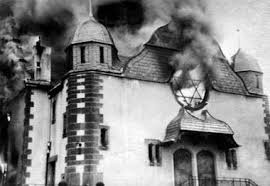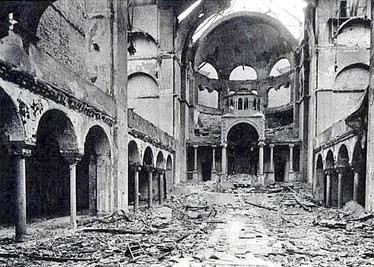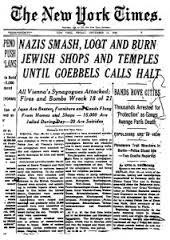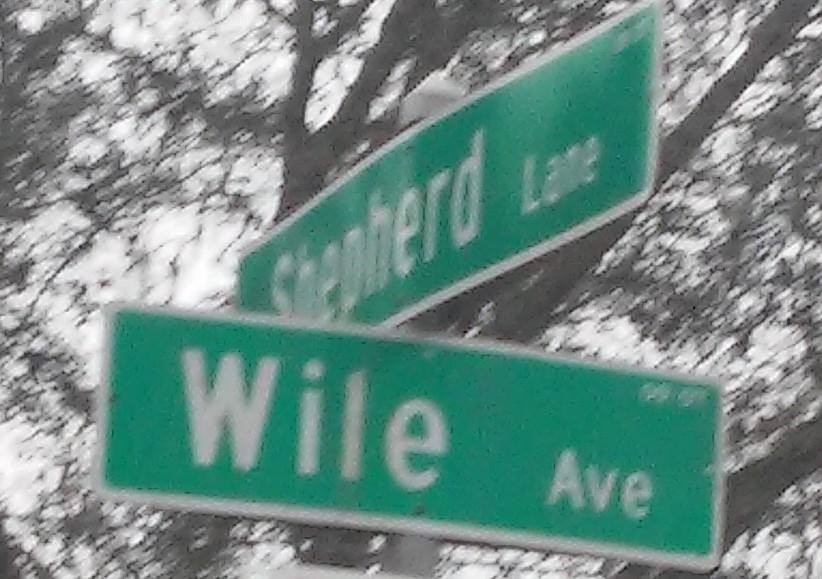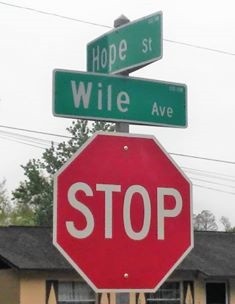 Intercession City has honored
J. W., John Wesley Wile by
naming a street after him and his
family...Wile Ave.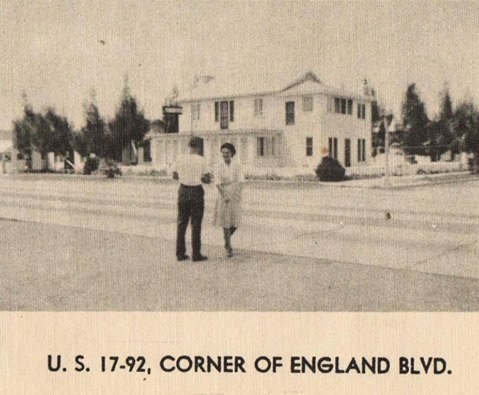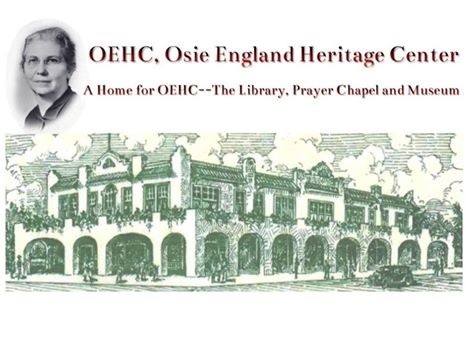 We want to honor this great woman of God by rebuilding a replica/replacement of the former Administration Building in Intercession City. The photo to the right is proof that there was an England Blvd., in honor of Miss England's ministry in Intercession City. This is the street which where Miss England's home is located. Her home still stands and is across from the Morrison Memorial Church on what has been renamed Tallahassee Blvd. I would propose that we rename Tallahassee Blvd. to what it was at one time in honor of Miss Osie England. Lets rename it,

ENGLAND BOULEVARD.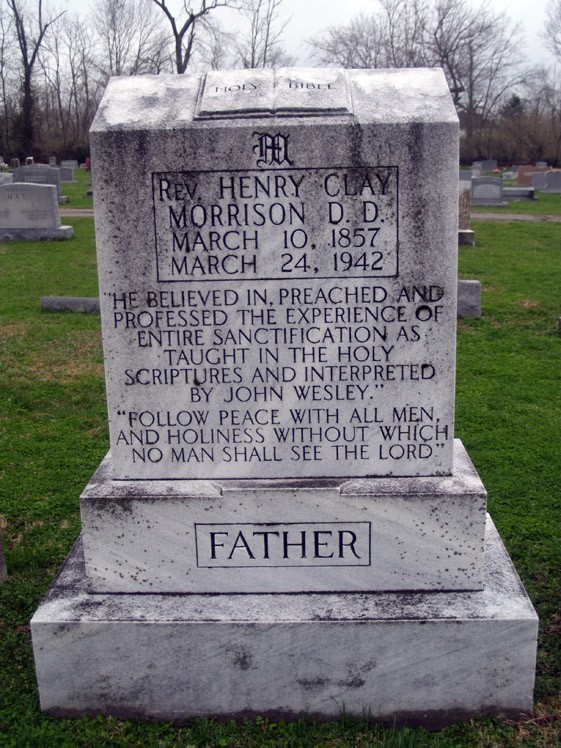 "His gravestone is in the shape of a pulpit with the Bible open on top of the sacred desk."

​​REV. HENRY CLAY MORRISON D. D.
MARCH 10, 1857
MARCH 24, 1942

"HE BELIEVED IN, PREACHED AND PROFESSED THE EXPERIENCE OF ENTIRE SANCTIFICATION AS TAUGHT IN THE HOLY SCRIPTURES AND INTERPRED BY JOHN WESLEY."

"FOLLOW PEACE WITH ALL MEN, AND HOLINESS WITHOUT WHICH NO MAN SHALL SEE THE LORD."

FATHER​​​​​​​​​​​